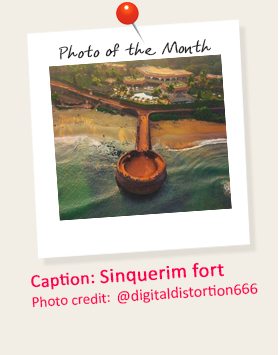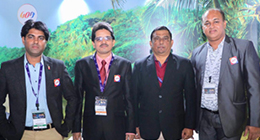 Goa Tourism put up an impressive show at SATTE (South Asia Travel and Tourism Exchange) in Delhi being held on January 16-18, 2019.In its 26th edition, the three-day event bagged an excellent response with market leaders increasing theirstand size followed by participation from the cross section of global and Indian travel and tourism markets. The show was marked by 1,000 exhibitors and representation from over 50 countries and 90 cities from across India.

Goa Tourism set up an attractive pavilion, followed by presentations and interactions with bigwigs from the tourism industry which received tremendous response from domestic and international buyers, tour operators, travel agents, wedding planners, corporate travel decision makers, potential investors in the field of hospitality, leisure and travel industry. Tourism officials disseminated information on all the forthcoming festivals and various services offered, Raj Bhavan Tours being the latest service added to the list. Some well known tourism stakeholders like Cidade De Goa , Bogmalo beach resort, Galaxia Cruises, Angria cruises, Freedom holidays, Grand Delmon, Travel Unlimited, Sandalwood resort, Fernandes Tours ,Rio Resort, Hot Air Balloon services by Tiger Balloon Safaris, Country Inn by Radisson , Whispering palms participated and promoted their products in a big way. Several bloggers and travel writers visited SATTE and obtained information on Tourism services and other facilities. Indonesia night and Azerbaijan night in Association with UBM group were held on the first and second day of the event. Tourism officials arranged B2B meetings and networking with prominent tour operators during the event. Many bloggers also visited the Goa stall. Goa Tourism pavilion was managed by EMA Crayons Advertising.

Goa Tourism's delegation comprised of Mr. Rajesh Kale, Dy Director Dept. of Toursim, Mr. Deepak Narvekar, Sr. Manager Marketing/PRO GTDC and Mr. Gajanan Mahale, ATO Dept. of Tourism, Govt. of Goa.
Read more>>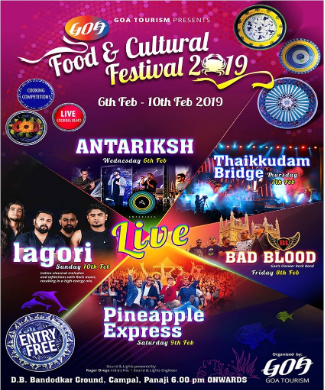 Goa is gearing up for the annual Goa Food and Cultural Festival 2019 showcasing the State 's cuisine along with a celebration of lifestyle food from across the country. Experience thrilling dance performances both local & national by Goan artists to enthrall & engage the domestic & international tourist. The event will be held from 6th February to 10th February 2019, 6.00 pm onwards.

After beaches and the susegad vibe, food is perhaps one of the other reasons that draw tourists to Goa. The five-day sizzling event has been drawing lakhs of tourists to the State who travel from far and wide to savor Goa on a platter and experience the spirit of fun and frolic that Goa has to offer. This year too the festival will present a variety of cuisine in vegetarian and non-vegetarian segments, sweets and other delicacies with more than 70 stalls. The event attracts gourmands from all over who want to try authentic delights beyond the staple fish curry and rice. During this five-day extravaganza, there are live performances, cooking competitions and dance performances by various groups scheduled to keep the audience enthralled. These live acts will feature a mix of local talent as well as some popular national names like Antariksh, Thaikkudam Bridge, Bad Blood, Pineapple Express and Lagori. The event will be graced with lots of Firework display, Spot prizes and much more. This event will be held at the D. B. Bandodkar Ground at Campal, Panjim 6 p.m. onwards. Entry to the programmes will be free.