Goa Tourism has been honoured with the 'Best Eco-Tourism State' award held recently at IITM Gurgaon.

The Goa Tourism delegation comprised of Mr. Sanjay V. P. Chodnekar, General Manager- Marketing, Mr. Deepak Narvekar, Public relations officer – GTDC, Mr. Prasad Kavlekar, Asst Manager- Marketing, Mrs. Milan Tendulkar, IA, Dept. of Tourism and Mrs. Nirmala Goltekar, IA, Dept. of Tourism. The award was accepted by Prasad Kavlekar, Asst Manager-Mktg.

Goa Tourism's stall depicted contemporary Goan architectural styles which attracted keen eyeballs from members of the travel trade and general public, eager for a taste of Goa.

A Goa evening was also organized at Citrus Hotel, Gurgaon which saw the participation of leading tour operators and media representatives. Mr. Deepak Narvekar PRO and Mr. Sanjay V. P. Chodnekar highlighted various new activities of Goa Tourism and announced Holiday Packages to Goa.

A cultural show profiling authentic Goan bands was also organised for the invitees and members of the travel trade and media fraternity.

The Minister for Tourism, Mr. Dilip Parulekar said, " Goa is an attractive State for Eco Tourism and Goa's rich hinterlands offer the best getaways for tourists both during the monsoons and during the year as well. Eco Tourism is one of our strong holds in the tourism sector and our promotion and marketing strategies with regards to Eco Tourism is showing excellent results."

"I am very happy to know that Goa has been honored with an award as the Best Eco Tourism State. I congratulate my team of officials who are working tirelessly to ensure that Goa Tourism is an attractive State with respect to Eco Tourism for both foreign and domestic tourists," Mr. Parulekar said.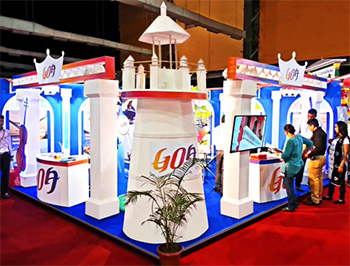 Panjim, Sept 3: Goa Tourism's rain of awards continue at IITMs organised across the country during the last three months, and the recently concluded IITM event held in Mumbai is of great significance.

Goa Tourism has bagged an award for being the 'Most Technology Friendly Tourism State' at the recently held IITM Mumbai exhibition which took place over three days in Mumbai (August 28-30, 2015).

The award was presented to Goa Tourism officials Mr. Rajesh Kale, Mr. Nilesh Naik Desai, Mr. Prasad Kavlekar and Mr. Anand Shetye by Mr. Ashok Arora, Regional Head, MP Tourism.

The Hon'ble Tourism Minister, Mr. Dilip Parulekar said, "It has been Goa Tourism's endeavour to reach out to the world using technology and we are achieving great heights. During my tenure as tourism minister I have ensured that this task will be achieved and it showing remarkable success.

Today all information on Goa Tourism is available at the click of a button. The world is following us through our websites, Facebook, Twitter, Instagram and GTDC is also launching shortly an interactive website and e-commerce portal. Goa will be the first State to have designed and commissioned such a portal which will make it even more easier for tourists to enjoy their holidays in Goa and get value for their money."

Mr Nilesh Cabral, Chairman of the Goa Tourism Development Corporation said, " The award is an acknowledgement of our out-of-box thinking to aggressively market Goa in social media and digital platforms enabling us to connect to the young travelers and tech-savvy tourists. GTDC has kept pace with the changing times and the award is a reflection of our endeavor to stay ahead in this tech-intensive world."

For Goa Tourism, this recent award at the IITM Mumbai endorses its commitment to revolutionizing the face of tourism.

Goa Tourism bagged the prestigious award at the 83rd edition of IITM (India International Travel Mart) organised at the Bombay Convention & Exhibition Centre, Goregaon East, Mumbai. While Maharashtra was the host state, the participating states included Andaman, Andhra Pradesh, Chhattisgarh, Delhi, Goa, Gujarat, Himachal Pradesh, Jammu & Kashmir, Jharkhand, Karnataka, Kerala, Lakshadweep, Madhya Pradesh, Maharashtra, Punjab, Uttarakhand, Tamil Nadu, Telangana and West Bengal. The participating countries consisted of Dubai, Greece, Malaysia, Nepal, Sharjah, Tunisia and the United Kingdom.

IITM is India's premier Exhibition that showcases travel, tourism, hospitality, leisure and other related industries. It is aimed at bringing the Industry, face-to-face with the travel trade, Corporate Buyer and the end-customer with the requisite purchasing power. All this in a comfortable and festive ambience that helps forge a mutually beneficial business relationship. It promises a great opportunity to rub shoulders with the crème de la crème of the industry and travel enthusiasts; a rendezvous that will leave an impact on the mind of every visitor and potential traveller.

Goa's stall at IITM Mumbai received an overwhelming response and a large number of travel and tour agencies visited. The Goa stall - that was done up in classic Goan style with 3D detailing and customized lighting, depicting the contrasts of Goa in line with Goa's brand strategy - was a massive draw for visitors on all the 3 days, marking an excellent response from both the trade and general visitors. A Goa evening event was also organised at the VITS Hotel for key travel operators. The evening consisted of a presentation on Goa, screening of a film on Goa, entertainment performances and authentic dinner, followed by informal interaction with tourism officials, offering Mumbai a true flavour of Goa.