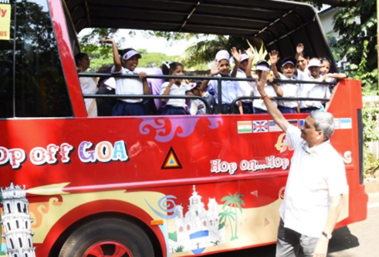 Panjim, November 14: Goa Tourism Development Corporation made Children's Day a memorable occasion for school kids with special Hop On Hop Off tours on its red swanky luxury double-decker buses. The double treat was a meeting between the Hon'ble Chief Minister and Education Minister, Mr. Manohar Parrikar who interacted with the children today. He hosted fellowship for the students of Govt. Primary School, Taleigao at his office.

As many as 400 school children are being given the opportunity to ride GTDC's HOHO double-decker buses over a period of three days (Nov 13-15) as part of Children's Day celebrations.

Thethree day fun filled activity was conducted to give children an insight into Goa's history and a glance of picturesque locations of the capital city and surrounding areas.

The bus routed through various locales like Miramar, Old Goa, Dona Paula, Panjim Church, Palace of Arch Bishop, Goa Science Centre, Kala Academy, Bhagwan Mahaveer Garden, Panjim Market, and river cruise point.

The HOHO luxury sightseeing buses introduced in May this year is one of GTDC's successful adventure initiatives and has evoked an overwhelming response during the last five months.

The GTDC through the HOHO service has commemorated several special occasions including World Tourism Day with special bus tours for students, for teachers on Teacher's Day etc.