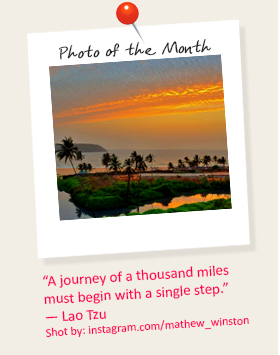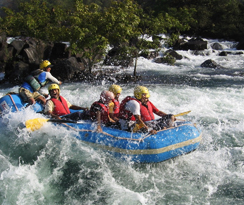 Panjim, June 28 : The time to experience the excitement of White Water Rafting in River Mhadei is finally here.

From Thursday, June 29, GTDC re-commences it's monsoon adventure activity - White Water Rafting on the waters of the natural, yet perfectly designed Mhadei River for the season. With the monsoon showers bursting from the skies, is the perfect time to soak in the refreshing rain and ride the rapids of the gorgeously moody river amid the spectacular forested scenery along the Mhadei Wildlife Sanctuary.

The activity offers not just one but two exhilarating rafting trips each day with the first trip at 9:30 am and the second trip at 2:30 pm. As many as 7rafts will be put into operation. The exciting trips run for 10 km each, stirring and elating you, along the breath-taking landscapes!The big and bouncy River Mhadei ensures a fun-filled trip for you, your family and friends. A minimum of 6 passengers run a single trip along with trained instructors.

The charges for the trip include Rs.1800/- per person.

And one need not worry about GST….Rs 1800 is the rate that will continue post 1st July!

Tourists, locals and all those interested in experiencing white water rafting will have to assemble at The Earthen Pot Restaurant, Sayed Nagar, Valpoi, Sattari, Goa from where a 25minute drive and thereafter a 10 minute walk into the Mhadei river valley will take you to the rafting site.

White water rafting activities are carried out in accordance with the internationally accepted norms. The instructors are highly trained and operations run with a 'safety first' policy. Each passenger will be provided with safetyequipments like life jackets, paddles following an instruction session from experts. Prior to departure, a briefing is conducted for safety and other procedures.

The trip is ideal for beginners and children above the age of 12. Secure footwear and proper

clothingis mandatory.

For bookings and more information, kindly contact: 9623451758, or book via www.goa-tourism.com, http://www.goarafting.com/.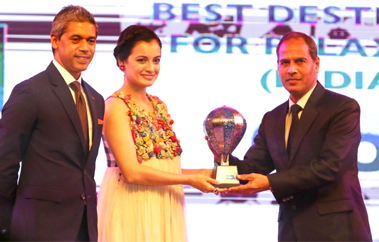 GoaTourism was presented the "Best Destinations for Relaxation" Award at Lonely Planet Magazine India Travel Awards 2017 held at the St. Regis Mumbai recently. The award was received by Mr. D.B. Sawant, General Manager, GTDC at the hands of renowned celebrity Dia Mirza.

Panjim, June 21: Goa Tourism Development Corporation is all set to celebrate Sao Joao festival on board Santa Monica on Saturday, 24th June 2017. The event will start at 10.00 am and conclude at 3.00 pm.

The event will include cultural programmes along with entertainment and fun for the tourists and locals. Also special programmes will be conducted during the event such as Acrobatic Jive, Lime dance for couples, black and white illusionary dance, bamboo Dance, laughter contest, coconut breaking contest, Goan dances such as the Fugdi, Vavraddi and Dekhni, games and quiz competitions, saree draping contest, splash dance, Goan and Hawaiian dances and selection of 'Festacho Raza & Rani'.

GTDC organizes this event every year in a bid to celebrate Goa's most unique monsoon festival "Sao Joao". Year by year, this festival attracts tourists from far and wide.

The event will be followed by lunch. The charges for the participation includes Rs. 2000/- for couples, Rs. 1100/- per individual and Rs. 600/-for children between 5 years to 12 years. The charges are inclusive of food and entertainment programmes.

For bookings, contact: Mr. Surendra-9881283262 or book online via www.goa-tourism.com