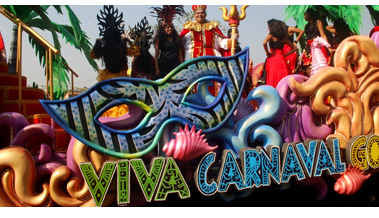 The season to Samba and serenade on the streets of Goa is finally round the corner. From February 25-28, 2017, Goa will come alive to celebrate the annual four day Carnaval with spectacular float parades, Carnaval festivities and an array of events and activities.

The legendary King Momo will rule over Goa for four days and will throw open Carnaval revelry in the capital city on 25th February 2017.


Elaborate floats, music, dancing and décor will form part of the four day Carnaval extravaganza and one you will not want to miss. Float parades in the four cities: Panjim, Margao, Vasco and Mapusa will be held from February 25-28 respectively.


Various Carnaval committees have been set up and guidelines drawn up for smooth conduct of the four day festivities. In addition to maintaining the traditional and cultural essence of Carnaval, this year the focus is weeding out non eco friendly floats, polluting junk vehicles and a total crack down on indecency.