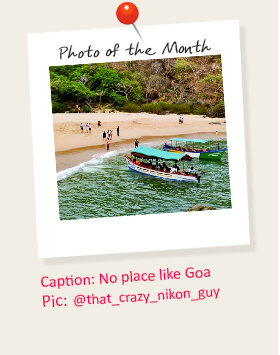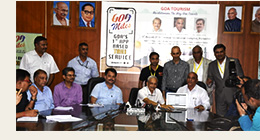 Goa's first and exclusive mobile app based taxi service GOAMILES has been launched by Hon'ble Chief Minister of Goa, Mr. Manohar Parrikar at the Secretariat Complex, Porvorim today.

Present at the launch were Hon'ble Minister for Tourism, Mr. Manohar Ajgaonkar; Hon'ble Chairman of Goa Tourism Development Corporation (GTDC), Mr. Nilesh Cabral; Chief Secretary of Goa, Mr. Dharmendra Sharma; Secretary for Tourism, Mr. Sheo Pratap Singh, Mr. Menino D'Souza, Director, Dept. of Tourism along with other dignitaries. The launch ofGOAMILES will bring about a revolutionary change in travel in and around Goa for both tourists and locals and provide benefits to taxi drivers serving under the new initiative. GOAMILES will provide the convenience of booking a taxi immediately upon arrival in the state at reasonable, government approved rates. The GOAMILES app can be downloaded from Google Play Store and Apple Store.

Speaking at the launch, Mr. Parrikar said, "Goa can now take tourists for miles through the newapp based taxi service which will be affordable and give travelers a comfortable journey from the time they arrive till they leave. I congratulate Goa Tourism for launching this initiative and wish them a huge success.

Adding to this, Mr. Ajgaonkar stated, "The launch of the app based taxi service in Goa will bring a revolutionary change in the transportation system for all stakeholders including taxi drivers, tourists and locals. I am confident that tourist taxi drivers across Goa will join this digital system so that Goa does not lag behind other states where such systems are working successfully."
Read more>>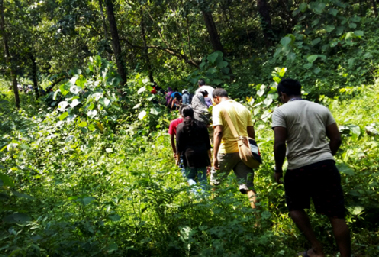 GTDC takes you again to an unknown, unseen, unexplored, , seasonal waterfall. This time let's enjoy the Saleli waterfalls. Situated in the Western Ghats, this waterfall comes to life in the monsoons and stays alive until the beginning of September.

Trek will be easy and comprises of two levels which anyone can join and enjoy. The travel distance from Panjim by road is about 40kms one way.

Pack your trekking bags and head towards an easy and adventurous trek amidst nature and picturesque landscapes.

Transport arrangements have been made from Margao and Mapusa Residency at 7:30 a.m. and from Paryatan Bhavan, Patto, Panjim at 8.30 a.m. On the way pick up arrangements are available at Old Goa, Banasthari and Sankhali healthcentre.

Registration fee is Rs. 800 (food inclusive). Vegetarian lunch will be provided.

Interested trekkers are requested to carry along an extra pair of clothes, rainwear, trekking shoes, snacksand binoculars. Smoking and consumption of alcohol will not be permitted.